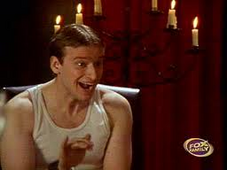 Gil should not be classified as an
evil werewolf
, as he has no evil inclinations. He's actually rather happy-go-lucky and has never wolfed out entirely while on screen (though in The Girl Who Spied Wolf he has fangs). He seems to be encouraging, nurturing, and rather gentle. In fact, his welcoming personality may be what keeps him from experiencing
certain death.
Unfortunately, he is also very gullible.
In no moment of the series does he seem to truly be angry about anything, though guilt and shame seem to be more frequent than anything except perky optimism. His father, the Leader of the Syndicate, becomes very annoyed with him on many occasions, and he is clearly anxious not to get into trouble with him.
He is a born werewolf. Born werewolves are not unheard of and constitute almost the entire population of Lycanthea, an island with little to no human contact. While being bitten seems to change most people for the worst, the born werewolves introduced to the viewers have all ended up being allies of Tommy, more or less.
He is good at operating machinery (The Manchurian Werewolf, Thanks), answering phones, welcoming people, budgeting, and baking muffins. He likes to go on father-son fishing trips and act as receptionist for the Syndicate.
After the vampire attack in the Syndicate castle, he moves the headquarters to a house in Pleasantville. He has plans to create a new Syndicate and rebuild because he believes that's what the leader would want him to do. Though his first scheme fails, he may have made other attempts.
Though he is accustomed to following orders, he must have some intelligence and leadership ability to have attempted to take Tommy's Alpha powers from him.
Appearances
Edit
Gil has been played by two actors. In The Girl Who Spied Wolf he is played by Howard Bilerman*. In the rest, he is played by Barry Julien (I).
The character credited to Howard Bilerman is actually just called "Dumb Guy". No one is called by the name Gil in the episode. The character in question sat where Gil sits, at the right hand side of the leader. He was obviously close to the leader because he said the leader was "just a little cranky". He also suggested giving Tommy a welcome basket of muffins and fruit, while in Thanks, Gil offers Tommy a muffin. Therefore, it's fairly clear they are supposed to be one and the same.
Affiliations
Edit
Interests
Edit
Muffins and Baking
Persuasion Instead of Force
Poker
Fishing
The name Gil means "joy" in Hebrew.
It is odd that Gil would be the soul survivor of the vampire attack.